TGIF! Today's dinner was CHICKEN ENCHILADAS!
I'm a huge fan of those store rotisserie chickens and will sometimes buy 2 at a time, peel the nasty skin and just take it off the bones and keep it in the fridge for salad or whatever. Apparently, I got a little chicken happy a few months back because I found a huge tub of pre made chicken enchilada filling (chicken, peppers, onions, cream of chicken soup, cumin, cilantro, salt, garlic and a bit of cayenne.
I rolled the filling in tortillas, topped with sauce and cheese and then made a side that is always popular in our house. Kind of like a "salad/salsa". I throw in diced tomatoes, can of rinsed black beans, corn (from the freezer), red onion, cilantro, garlic and the juice of one lime.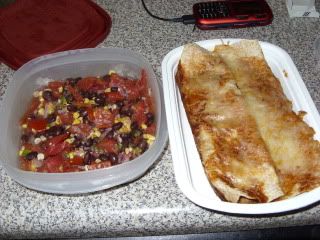 I forgot to take the picture until it was almost all gone...these are the leftovers!