Saturday...I decided to turn this post into a BREAKFAST use of the freezer. We had lunch/dinner at The Pug Posse's house yesterday so we didn't make anything later...but I made FRENCH TOAST for breakfast for the boys using THIS...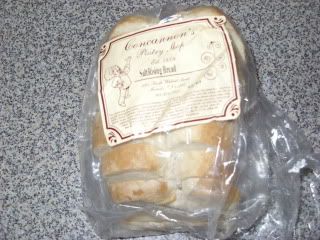 Frozen Salt Rising Bread from Concannon's Bakery in Muncie, IN. Kevin LOVES the stuff and we always have a few loaves on hand for him to make toast. I turned it into some cinnamon, vanilla french toast paired up with some bacon (also from the freezer) that I had used (no pic) to make the baked beans that I took over to the Posse's house!
Just ignore the Colts cheerleader poster in the background on the table! Holden and his buddy were deciding which girl had real boobs vs. implants. Great activity to keep two 10 year old boys busy for at least half an hour on a hot summer day!