Tonight (Wednesday) was just Holden and I for dinner. We had "sort of grilled" pizza!!!
I make whole wheat pizza crusts on the grill and then freeze them for a quickie dinner. We dove into my stockpile to clear out another ziploc bag from the freezer!
Topped with yummy chunky spicy pizza sauce (cleared another container out of the fridge! YAY!), peppers (from the freezer!), sliced tomato, fresh mozzarella, a tiny bit of lowfat ricotta, shreds of ham, crumbles of leftover bacon from last night and basil...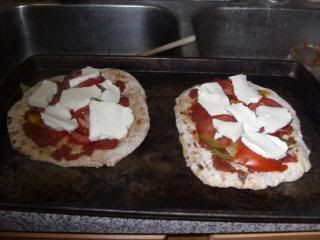 Here is my sous chef Holden doing a perfect chiffonade with the basil!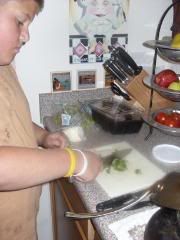 About 10 minutes in the oven and VOILA!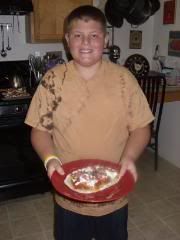 Pizza's ready...and the freezer is getting empty!!!