Monday...I have an exercise class, so I kind of do my own thing for dinner after class, so I left the boys in charge with tonight's freezer items....
CUBESTEAKS! Here are four of them breaded with some seasoned flour along with a bag of stir fry veg (I helped with this step and then had to scoot to class).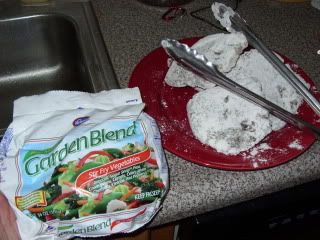 I understand that Holden browned them in a touch of olive oil and then I instructed him to deglaze the pan with a slosh of Madiera wine (under the supervision of Kevin of course!) and finish that with a spoonful of capers. I don't think Holden was a fan of the sauce...his cubesteak looks like it was kind of nekkid.
I'll bet he and Kevin plopped them on the buns and ate them like burgers!