Ok...I'm really excited that I was able to rid the freezer of FOUR items tonight!!!
Non-fried homemade chicken tenders...totally easy...boneless skinless chicken breasts cut into strips, dipped in some buttermilk and then rolled in a light coating of seasoned Panko breadcrumbs then FREEZE them like that on a cookie sheet until they're hard as rocks and then stick em in a bag and keep them in there until you decide to start a project like this! I found a partial bag of Trader Joe's fries (also baked) and decided to make this weird veggie side dish recipe similar to something I once saw Nigella Lawson make....
Start with frozen peas
(I had two partial bags)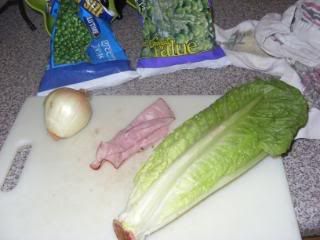 onion, bacon (or in my case, a piece of lunchmeat ham, and a romaine heart). Chop it all into little bits. Saute the onion and bacon/ham in a tiny drizzle of olive oil until the bacon/ham is crispy and the onion is soft. Add FROZEN PEAS to this and heat through and then throw in your romaine at the end to wilt a bit. Add some salt and voila...veggie.
Here is Kevin's plate...
Here's mine...
I opted for a chicken tender on top of a big ol' salad.
Tomorrow will just be me (like most Wednesdays), so who knows what might happen!