As promised...Day 12 is a good one. My mom used to make this when it was HOT outside because it doesn't involve heating up the oven. I think she used to make this in an electric skillet and I remember we used to eat it in the basement at the card table where it was cool (this was before central A/C was commonplace!) I think the official name is "Yankee Beef and Vegetables" but I call it "That ground beef veggie thing you eat when it's hot outside"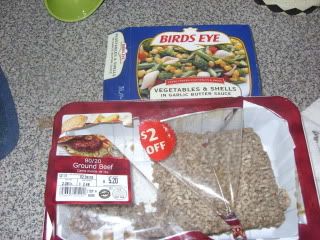 Takes about a pound of ground beef (normally I buy the lean stuff...but I goofed and got the 80/20 as you can see here...ugh). Throw in a box or two of Birds Eye New England Style veggies...the kind with the little shell pasta mixed in them. Brown it all up together and then add a slurry of about 1/2 cup milk, a teaspoon of flour and a few glugs of Worcestershire sauce. It will thicken up like a gravy and look like this...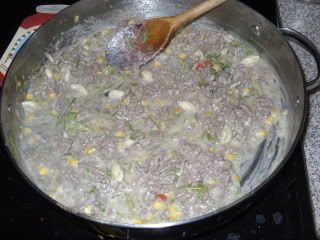 Ok...the pics look like something you'd find on the pavement of a carnival, but I PROMISE you that it's good.
Just ask Kevin...
I had a salad, but won't bore you with those pics...especially since it contained NOTHING freezer related.