I'm posting Day 13 now (in the morning) because I made dinner for Day 13 last night. It's another "Mom recipe" and kid favorite...TACO PIE!
Here's the pile of Mise En Place...freezer items are the rest of the giant tub o' ground beef from day 12, bag of frozen pepper/onion strips.
There really is no precise "recipe" for this...it's more of a method type dish. Warning...it's NOT particularly healthy, so don't expect your scale to love you for this one!
Start with your peppers/onions, ground beef, taco seasoning and refried beans. Cook it up in a big skillet until the meat is browned.
Spread out crescent roll dough in a sprayed pan and then layer up with your meat/veg/bean mixture like this...
Top with a container of sour cream (you can use light), sprinkle on a few handfuls of crushed Doritoes and a bag of shredded cheddar. Top with drained diced tomatoes, Mexicorn or whatever other types of things sound good. I added cilantro from the herb garden.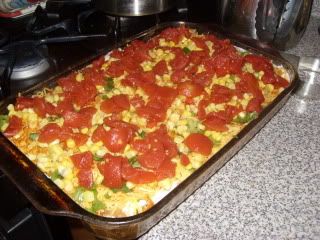 I always make it in a glass pan because it's pretty to see all the layers (and I'm really easily amused with stuff like that)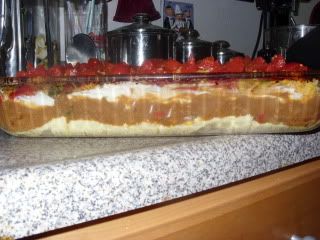 It's ALWAYS better the next day, so I baked it last night and Kevin can reheat it for the kids in the microwave.
Stay tuned for a GREAT day 14 salad (which is what I'LL be having tonight!)