Thursday
This is a family favorite...I call it "The Chicken". My best friend Susan gave me this recipe years ago and I've made it for parties and always make it when mom and dad come to visit. It's STUPID easy, but everyone loves it....and it was a great way to use up the rest of those chicken breasts I pulled out the other day for the Wellingtons!
Remember these?
I dunked them in beaten egg and then gave them a quick toss in some bread crumbs and then thew them into a hot skillet sprayed with cooking spray (NO oil)
Brown them up just on the outside then throw into the oven with enough BEEF (yes, BEEF) broth to cover the bottom of the pan. Bake about 1/2 hour or so, then flip and add more broth if you need it. Throw some fresh sliced mushrooms on top and then sprinkle with a nice layer of mozzarella cheese and stick back in the oven for another 15 minutes or so.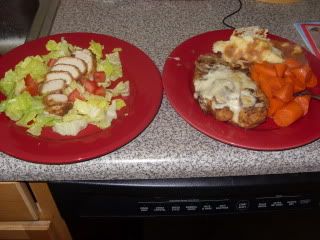 The result of this is on the right...voila! THE CHICKEN!
I kept a piece out for me away from the toppings and just sliced it on salad. Kevin's chicken was paired with parmesean mashed potatoes and some steamed carrots.
Yum!