Wednesday LAME-O ALERT!!!
Wednesdays, Kevin usually has dinner with Will and Lizz so it was just me again. Here was the freezer offering tonight...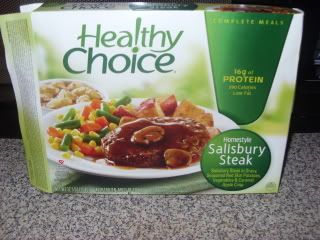 Ok...it's been YEARS since I've eaten one of these things and now I remember why....OMG...IT WAS VILE!!!!
I ate the Salisbury steak (which was ok with a gallon of ketchup on it) and picked out the green beans, but that apple dessert thing was really starchy tasting like baby food with chewy oatmeal on top of it. I didn't even try the potatoes, so they might have been good, but I'll never know.
At least another box is history!