Salinger The Pug has agreed to share his blog time and space with his humans so we can document our "Freezer Project" that we just cooked up for the summer!
It's come to our attention that I (Laura) am a "Freezer Hoarder" and have grown very tired of hardened blocks falling on my feet every time I open one of the freezers!
My parents taught me well...I feel that I am very thrifty and ALWAYS plan meals ahead of time, ALWAYS shop sales, sometimes buy in bulk and frequently will make double batches of whatever is for dinner to freeze for "another day". WELL....those "OTHER DAYS" are here because Kevin and I have declared BOTH freezers to be "comepletely ridiculous".
Here are the BEFORE pics of our ridiculousness...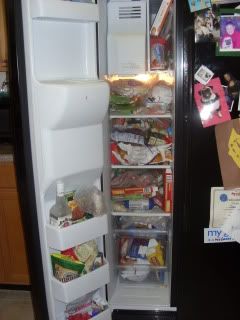 Here is the freezer in the kitchen (with the fridge, which is a WHOLE other story)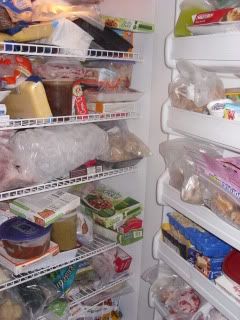 This is the "storage" freezer that holds the overflow of the kitchen freezer.
We have decided that starting TODAY...and for at least one month, we are going to have our own personal "Freezer Project". Here are the rules....
1. NO purchasing any type of new meat or frozen food...(we can buy dairy, produce and staples ONLY)
2. Meals will be planned in advance and based on what is "available" in the freezer.
3. After 1 month...we will reorganize and see what remains and decide if the project will need to continue.
4. All meals will be documented here for the next month...so follow along and join the fun!
I can't guarantee things will be pretty...but we'll see what happens!
Come back later for installment #1!