I was sick of grilling whatever I found, so I decided to change gears and make BRUNSWICK STEW today!
I'd never heard of this stuff until Kevin took me "home" to South Carolina and they served this as a side dish practically EVERYWHERE you went! It's a nice comforting stew traditionally made with rabbit (ummm...it wouldn't have surprised me, but I didn't see any bunny in either freezer, so we used chicken), tomatoes, lima beans and corn. It's seasoned up with bay leaf, garlic and a touch of cayenne pepper.
Here is the lineup...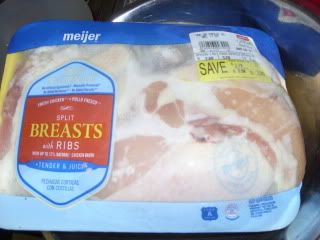 Frozen brick o'chicken
frozen lima beans and "Cajun" mirepoix mix (celery, onion, green pepper)...aka "The Trinity"
I used frozen corn too...but forgot to add it in the pic...you get the idea.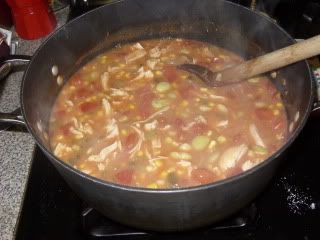 Here it is all simmery and yummy!
...and here is one happy "Southern Boy" with a yummy taste of home!