Today sounds really fancy schmancy...but couldn't be easier...
CHICKEN WELLINGTON (yes...Beef Wellington's low budget cousin!)
I found some boneless, skinless chicken breasts in the freezer...
Found a package of Puff Pastry dough (jeez...no CLUE how old it was...I don't remember buying it!)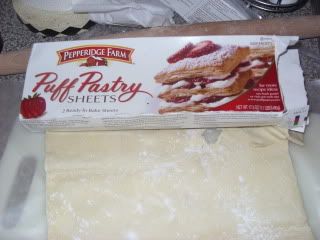 I made a quickie duxelles by chopping up some mushrooms and onion and sauteed with a tiny bit of butter, salt, pepper and white wine (Chardonnay)
Piled the shrooms and onion on the dough, topped with a chicken breast and then wrapped it up...egg washed it and threw it in the oven.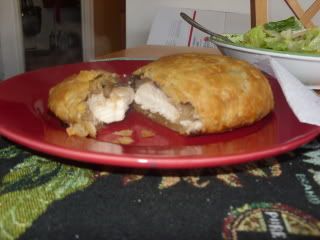 Here's the result about 40 minutes later!
Dinner is served! Kevin's on the left (Wellington with our staple Caesar salad) and I made myself a ham and cheese salad with radicchio on the right.